The Aupairnet24 BIG SUMMER SALE is now on!
Don´t miss this great opportunity to save up to 50% on our Premium Services for host families – 2 DAYS ONLY!
Redeem your discount code now and find your ideal au pair at Aupairnet24!
50% discount for 1 month package: SUMMER1
50% discount for 3 month package: SUMMER3
50% discount for 6 month package: SUMMER6
Hurry: Our discount codes* expire on 24 July 2014!
*Your discount code is valid until 24.07.2014, redeemable only once and cannot be combined with other promotions. No cash redemption possible.
22. July 2014 | Posted In: Allgemein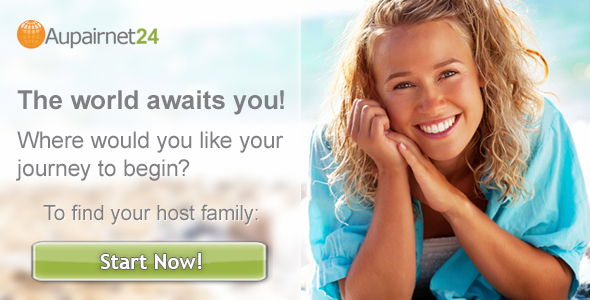 Did you know that the most successful Au Pairs are those who regularly contact different host families?

Why? Because the more families you contact, the more offers you'll receive and the greater your choice of attractive travel destinations will be! Wouldn't you like to travel to your dream country to join a lovely host family?

The world awaits you – what would you like to experience?
Swimming with dolphins and seeing kangaroos? 
Trying a traditional German dish with your host child? 
Watching a rugby game and tasting Fish 'n' Chips?
Don´t forget: Whatever your dream destination may be, start contacting host families today to begin your great au pair adventure.
16. July 2014 | Posted In: Allgemein